LAB01
"DI CANTO IN CANTO"
Through this seminar we intend to motivate the recovery of music tradition of the local community. Women will be protagonists of this community. The operation won't be restricted to the collection of the attestations and participants won't be considered only "sources" but also protagonists of the investigation and of the recovery, in order to become conscious of the importance that the knowledge and the survival of one's tradition holds. The instinct for preservation is a basic characteristic of women's world. Shelving, looking after things and memories are important aspects in the material culture of a tribe. Keeping close together , taking care of the strength that comes from the unity of the clan: these duties has belonged to women since always. No one better than they can understand, even only instinctively, the importance that memory holds in the preservation of a species. History teaches how important is to acknowledge oneself into a tradition and how people, whose roots haven't been recognized, feel hurt.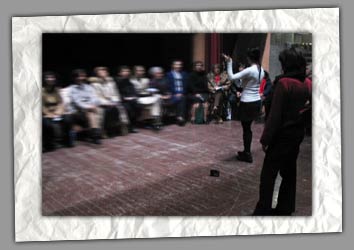 This seminar addressed to women of all ages, is aimed at regaining one's traditions, and meeting different cultures through one of the most instinctive communication media, used since always in folk tradition: singing. 
Seminar activities
I: The partcipants will be stimulated to recover songs belonging to the tradition of their family or their town and will be led to a more critical study of these songs.
II: Will be also proposed some polyphonic pieces belonging to different traditions in order to a culture of meeting not only a recovery one. III: In the end participants will be asked to show in public the work executed in the seminar.
---
LAB02
"VOCE IN GIOCO"

The voice is an instrument with various expressive potentiality, some of them are codified in techniques and have reference to particular musical precincts, others are less explored but not less rich of stimuli or less interesting to those who approach the study of this instrument. .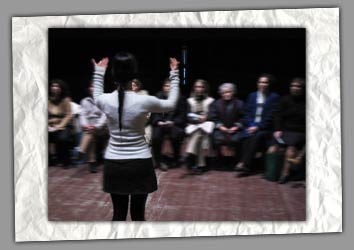 Vocality, in ethnic music, as the most immediate fruit of the feelings and the humors of a tribe, gives us interesting suggestions: the first stage of this seminar will consist in learning and performing some traditional songs of different origin, in order to illustrate some vocal techniques and their genesis, of the polyphonies and the use of the voice in different peoples a long way off in space. But , before containing a collective identity, Voice express an individuality. Every sound produced by the voice is a valid way to express oneself. Here starts the game of improvisation, individual or collective. During the improvisations everyone is invited to express himself with melodic lines, rhythmic phrases, syllables or simple sounds repeated , interacting with the others and creating a kind of stimulating "comparison", in order to create, in real time, melodies, harmonies, rhythmic crossings, to individuate some defined improvisative groups , their development, the arrangement.

| | | |
| --- | --- | --- |
| "Lu ciucciarieddu" | performed by Women from Mesagne | images/ciucciarieddu.mp3 |
| "Tu lu vuei lu cori mia" | performed by Women from Mesagne | images/tu_lu_vuei_lu_cori_mia.mp3 |
| "Per favore Rosina dammela" | performed by Women from Asciano | images/per_favore_rosina_dammela.mp3 |